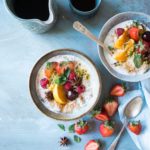 Nutrition and the benefits of nutritional therapy are often cited in the media and I am keen to spread the word so please click here to contact me for any media, or content/writing related queries. I am able to provide expert opinion & commentary on nutrition related topics. 
Click below to read some of the articles I have written:
Time & Leisure Magazine Feb 2018 Issue
I have also appeared on Sky News & London Live as well as a number of national and local radio stations.