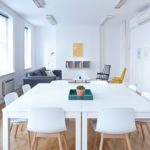 Did you know? Workplace absence is costing the UK £18bn a year in lost productivity. Having a workplace wellness programme can provide broad reaching benefits, which can result in reduced absenteeism, improved health and wellbeing of employees, and improved productivity levels. 
The right nutrition plays an integral part in the health and vitality of your workforce and I work with compa
nies who are interested in providing corporate nutrition packages to their employees. My 'Workplace Wellness' package offers workshops, talks and one to one consultations for employees. It's becoming an increasingly important topic for organisations as health and the workplace go hand in hand when it comes to increasing productivity levels and motivation, as well as reducing sickness/absenteeism and stress related disorders. 
I also provide one off talks to inspire and motivate your employees to take charge of their nutrition, as well as guides on how to implement into their day to day life.