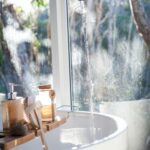 **This is not an affiliated or sponsored post
Did you know? Our skin is the largest organ in our body. It's also the organ that is most exposed to the external world and in doing so, gathers all sorts of nasties! These can include things like dirt, grime, dust, car & bus fumes, & gas etc.
Poor nutrition & hydration can also have an effect on our skin & manifest in specific skin conditions such as acne, eczema etc., as the skin works hard to detoxify toxins & chemicals from within our body.
Now of course, we all have different types of skin and different requirements for skincare products, however choosing the best ones can really help to make you feel & look your best!
Here are some of my favourite go to beauty products which I use for my daily skincare routine:
Coconut oil has so many uses it's ridiculous! I always have a jar in the house as I use it for so many things – these include: as a moisturiser & for sunburn (we often take a jar on holiday or buy one abroad as it's amazing for reducing redness and preventing dry/peeling skin), as a lipbalm/for cracked lips, for scars, as a hair treatment (slather on before you go to bed and wash off in the morning), & as a make-up remover (add to a cotton pad and wipe over your face to remove make-up, it even removed stubborn eye make-up too!).
Rosehip oil is full of antioxidants and vitamin A which is vital for healthy skin. It also helps with scarring and you can also add some drops to a bath too! It can even out skintone, help with wrinkles and tone up skin, & overall make your complexion brighter. I tend to add a few drops to each bath (along with some lavender oil) as opposed to putting on my skin every day.
Most standard deodorants and anti-perspirants contain harmful chemicals such as aluminium, parabens, phthalates …and the list goes on! These can be absorbed through the skin and can lead to a range of ailments & symptoms. I always use a natural deodorant free of these compounds and my favourite brand is Sukin and it smells really nice too!
Packed full of shea butter, almond, sunflower & avocado oil, it's a really good choice for putting on your skin!
I absolutely love getting my nails done….there's nothing better or more relaxing than taking yourself off for a mani-pedi. However, nail varnishes contain lots of chemicals that can over time, dehydrate & dry out our nails. I've found a more natural alternative in the Little Ondine brand. They do some really nice colours and red is definitely a favourite! I've also recently come across a nail salon in Clapham called London Grace which offers formaldehyde-free varnishes and a great relaxing experience to boot!
If you're thinking of adding a more natural touch to your skincare routine, I'm hoping some of the products above will help!